A French Bulldog with a brindle or tiger-striped pattern has a series of light and dark streaks against their coats. There are several genes responsible for the brindle pattern, but the K-Locus is one of the most prominent. A Frenchie will display this pattern if it has inherited the recessive k gene from both its parents.

The AKC recognizes brindle as an official coat pattern, alongside variations like white and brindle, brindle and white, and fawn brindle.
Different Types of Brindle French Bulldogs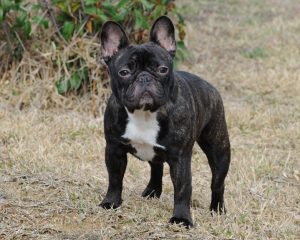 Black Brindle
One of the most common Frenchies, these dogs have black coats covered with fawn streaks.
More Brindle French Bulldogs
How Much Do Brindle Frenchies Cost
On average, brindle French Bulldogs cost around $3000 – $4000.