Pied French Bulldogs have white coats with big dark patches of different colors like black, brown, and dark gray. These markings exist throughout the body, mainly on the back, around the eyes and ears, and in the areas below the neck.
One should not confuse pied with brindle, as the solid coat of a brindle Frenchie has light interspersed hairs, contrasting the dark patches against a light coat in a pied dog.
The AKC recognizes certain combinations of pied patterns like brindle & white, fawn & white, white & brindle, white & fawn, and cream & white.
Different Types of Pied French Bulldogs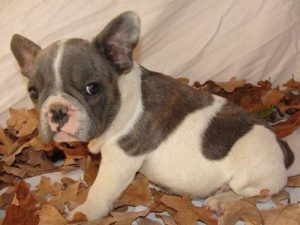 Brindle Pied
One of the more common pied Frenchies, these dogs have brindle patches over white coats. The brindling can be either black or blue.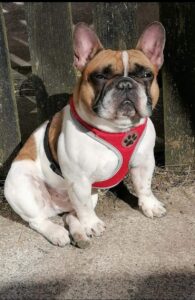 Red Pied
These dogs are white underneath and have red patches on their head, neck, and parts of their backs.
More Pied French Bulldogs
How Much Do Pied French Bulldogs Cost
On average, the price of a pied Frenchie ranges between $5,000 and $7,000.